Fundraising on the internet
Amazon Smile
Amazon Smile is a simple automatic way to shop on line and donate to our charity.
If you are a shopper on Amazon it's very simple; shop or browse through AmazonSmile, select the charity (west yorkshire ms therapy centre ltd) and then we receive a percentage of what you spend. Here's what to do.
Simply go to the Amazon Smile website.
Type 'West Yorkshire MS Therapy' in the search box
...and select
then confirm that you must always go via Smile.Amazon.co.uk  to donate to the Centre. If you no longer wish to make a donation, just go via your normal  Amazon account.
---
Everyclick / GiveasyouLive
We have linked up with Everyclick.com, an internet search engine to raise much needed funds for the centre. By using Everyclick.com as your search engine and registering as a fundraiser for the centre you will raise money for us by using the internet.
You can see how we've done so far here
It could not be easier to start fundraising for us. To register, simply click on the logo below and register.  Then set Everyclick.com as you home page and don't forget to tell your friends, family & colleagues.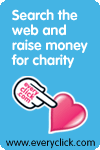 Spread the word, it could not be easier to help the centre.
Update : Everyclick and GiveasyouLive are partner organisations with shared accounts. any donations created in Everyclick will show up in GiveasyouLive and visa versa 
---
JustGiving
We also have a JustGiving account where you can donate on-line or publicise your fundraising event (let us know as well!)
Here's just one example of how people can have fun whilst raising money for us, as well as our profile!
Why not use JustGiving to help you raise even more at your next coffee morning, cake stall or fun run. With photos, videos and text, you can tell it in your own way. Friends can support you whenever and wherever, by donating securely on JustGiving or Facebook, and, if you're in the UK, by text message.
JustTextGiving
How to get started with JustTextGiving
It's simple, free and fast. If you're in the UK, your friends, family and supporters can sponsor us by text message.
Whatever mobile network you're on, you can simply text MSTC04 and an amount of £1, £2, £3, £4, £5 or £10 to 70070. e.g text  MSTC04£5 to 70070
Don't forget you can add Gift Aid to your donation to boost your donation at no additional cost to yourself.